Previous Post:
Why Your Home Needs Column Designs
&nbsp Next Post:
Custom Onyx Columns in Custom Built Homes
We all know that marble cost a lot, but you don't have to produce a hefty sum just so you can have something marbleized inside your home. Marbleizing columns can be done by using the faux kind, and if done properly, can create the perfect illusion that what you have, indeed, are marble columns.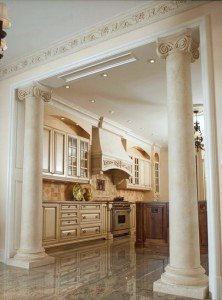 Things to Prepare:
     Base color paint
     Extra shades of base color paint
     Paint glaze
     Vein color paint
     Soft rag or sponge
     Roller brush
     Craft brush
   Soft dry paint brush
     Narrow brush
     Sealer
These things can either be prepared by you, or call a design company such as Marvelous Marble Design Inc in California to help you out. These people can help you in decorating your basic columns and transform them into extravagant structures. You can reach them at 1-888-272-0630.
What to do
Regardless if you have Greek or Italian marble columns, let your designer decide the best shades and patterns to apply. If you have ideas regarding marble structures, you can also give your input, so as to express your own element.
      Choose the proper paint intended for interior or exterior marble design.
     Clean the surface of your columns so the base coat can be applied. For this, a roller brush would evenly do the trick.
     Add the glaze for a see-through effect. The more glaze you use, the more see-through your background will be.
     The veining bands will come out by using a medium brush. Ask the artist to blend them carefully. The key is to avoid any sharp edges.
     The twist and twirls can be more emphasized by using a narrow brush. Let the paint dry.
     For a polished look, seal the column using a satin sealer; or if you want a glossier effect, a gloss sealer will do.