Previous Post:
How to Marble Paint a Natural Stone Column
&nbsp Next Post:
Types of Front Porch Limestone Columns
Creating a whole new look in your home is not a hard task today. This is based on the fact that columns design has been specially designed to fully transform your home into a haven of comfort. A beautiful home creates an ideal environment where you and friends can relax and have fun. Marble columns design is one of the best columns you can settle for in the market. It comes with a wide range of impressive features that make it ideal for modern and luxurious homes in Chicago, Florida, Texas and Toronto. They are made of high quality material and each detail is incorporated to add instant appeal and value to  your home.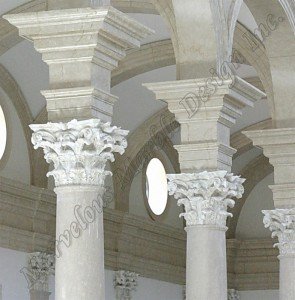 Columns design including marble colums design feature smooth texture  and have a polished look. The design itself is very unique and will make your home one of a kind. Additionally, the design is aunthentic and very creative. This make it an ideal option for you especially if you want to add an artistic touch to your home. It is also a perfect material that will fully transform your home and harmonize your ambience indoors and outdoors. The patterns that the column design display is simply amazing. Whether youu settle for natural sandstone columns or marble, you can rest assured that the patterns will enhance your interior and exterior decor.
Whats more, columns design come in a wide range of styles and designs. This gives you an opportunity to achieve your decorative goals best. You can settle for variations that match with your existing decor or simply a variation that will create a whole new look in your home. The columns are also highly functional, versatile and modern. The colors are incredible  and add a touch of beauty and diversity to your home. You only need to define your needs and settle for quality column for a lasting decorative look in your home.