Previous Post:
Calcutta marble Columns
&nbsp Next Post:
Interior and Exterior Stone Columns
Unlike round columns that we usually see, square columns give off a certain edge that would definitely give element to your house or an establishment that you own. In huge establishments, columns are installed not only for its integral part in supporting the structure, but to enhance the appearance of the establishment as well.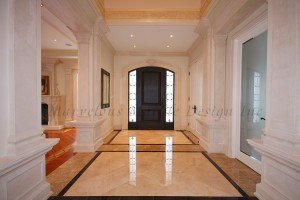 In weddings, it is important to define the element of your design according to the interior or exterior appearance of the venue. If it should happen that the venue you chose has square columns, you should know how to decorate it in order to optimize its unusual structure.
Cast stone columns are lovely to look at by itself, but if you are stuck with plain and boring pillars, you should definitely do something about it. However, if you notice chips, cracks, stains and other damages, you should contact a professional right away, especially if you are working with structures in large houses.
For assistance with columns, custom designs and such, call Marvelous Marble Design Inc at 1-888-272-0630.
Materials for Decorating Columns
     Garland
     Glue
     Faux flowers
     Tulle
     Measuring tape
     Scissors
     Tape
     J hook
     Satin / silk cloth
What next?
Technically, let your imagination drive you. Unlike round columns, square pillars have flat surfaces, which make it easier for you to decorate it. If the columns appear mundane, add some color and texture to it. You can either use soft cloths like satin or silk and drape it around the edges to give off a more dramatic look.
You can also make faux flower garlands and wrap it around the pillars. This will work well especially in spring/summer themed weddings. Square pillars can also be repainted. Hire a professional painter to do the job and either marbleize your columns or splash some artistic and abstract designs to it.