Previous Post:
Custom Onyx Columns in Custom Built Homes
&nbsp Next Post:
Calcutta marble Columns
All of us are aware of the fact that people in the ancient times had used columns already. The first columns used are made of wooden materials. They came up with beautiful designs and one particular design that had been widely used in Greek period is the fluted columns. The fluted designs which are vertical indentations had appeared on the surface of the wood after its bark was peeled off. Even interior columns used before are fluted columns as well. When stoned made columns such as Greek columns, limestone columns, marble columns and granite columns started to exist, fluted designs were also adapted and applied.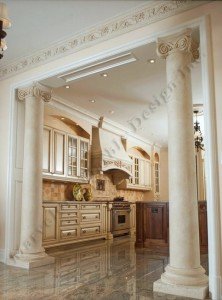 These days, you can notice that most of the houses built in Miami, Vancouver, Los Angeles and even Mansions or large houses use fluted columns to support their roof and walls as well. Though solid shaft columns are undoubtedly pleasing to look custom design columns can make columns look lovelier. Fluted column designs can grant your home that ancient Greek ambiance with modern touch because of the modern furniture and appliances included in the house. Stone made fluted columns contain that unique gorgeousness like Italian marble columns, granite columns, limestone columns and marble columns.
Tall marble columns can look even taller once they have fluted designs making them ideal for large houses even for high end residential. If you love things from the past, you will surely greatly appreciate fluted columns for they can make you savor that ancient ambiance without you leaving your house. Marble columns in the bathroom will make it more stylish and favorable than those simple ones that may not last for long. Check out what other column types that manufacturers such as Marvelous Marble Design Inc has install for your house improvement  This manufacturer is reachable through their phone number 1-888-272-0630.