Some people may feel the need to redecorate the interior pillars of their house. Some columns are installed as decorative pieces themselves; but there are those which can cause quite an eyesore, especially if they are just plain and too bulky. To avoid this situation, all you have to do is decorate it.
Tall marble columns are very intricate to look at, especially if it is original. Some however have faux marbles, which are just interior columns painted professionally to appear like a marble.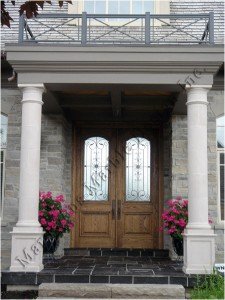 Actually, there is no need to call a professional if you want to change the look of bland columns.  But if you want to install new ones or maybe completely change the look of it, there are some companies in Toronto which can do it for you. One example is Marvelous Marble Design Inc and they can be reached at 1-888-272-0630.
Things to Supply for Redesigning Boring Columns
     Glaze or gloss
    Paint
     Newspaper for paint drops
     Various paintbrushes
    Silk, cloth, faux flowers or any decorative piece
What to do
     Choose a paint color that will suit the color of your house or the part of your home where the columns are located.
     Use newspapers to cover the spaces where repainting is unnecessary. You can also use drop cloths to avoid paint from staining the floor.
     It is better to pain the interior pillars with solid colors, while a neutral shade will best suit the living room columns.
     Using a medium paintbrush or a roller, cover the columns with glaze or gloss. If you want a glossier look, apply two coats of glaze.
     If you want your columns to be more visual, wrap silk around it by using a wire, or use the wire to string in some faux flowers to create a more dramatic look.